Now what would have been in its 23rd year the 10K race takes place in the beautiful coastal location of Lymington on Sunday, May 12th 2024.
Events for all ages in Woodside Park, Ridgeway Lane, Lymington SO41 8FP.
For all 10K queries please email: lymington10k@frsystems.co.uk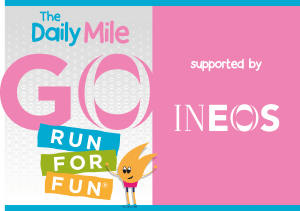 The Daily Mile GO Run For Fun is an international children's fitness campaign, designed to inspire children to be more active through fun short-distance mass participation running events. It has been a phenomenal success with over 330,000 children taking part since it was launched in 2013. It is the core programme of The Daily Mile Events which helps to elevate The Daily Mile programme and encourages participation in The Daily Mile globally.
The Daily Mile is an initiative launched by Headteacher Elaine Wyllie MBE in 2012, after realising the average children's level of fitness in her school was well below optimum. The Daily Mile encourages children to run, jog, wheel or walk for 15 minutes every day at whatever pace suits the child best, with the goal of improving the physical, social, emotional and mental wellbeing of our children – regardless of age, ability or personal circumstances.
The Daily Mile GO Run for Fun programme fulfils this aim – by getting as many children between the age of 5 and 10 running as possible to participate in, well organised, fun events. Since GO Run for Fun kicked off in Summer 2013, we have seen young runners take part in events spanning the UK, France, Germany, Belgium, Switzerland, Italy, Norway, USA, Mexico and Singapore – and the number of events is still growing!
In addition, The Daily Mile Foundation has created Mission Kids Fit For Life, a 6 week in-school digital health & wellbeing programme which teaches the importance of healthy lifestyles, nutrition, exercise, teamwork and much more. The resources are freely available to schools, which include videos, presentations, activity cards and a poster for children to learn from, for more information please visit: https://www.missionkidsfitforlife.com/
10K Race:
1. Start at 10.00 am
2. Not suitable for wheel chairs. Visually impaired should seek advice
3. Flat, multi-terrain route – the same as 2023. The route map can be found Here
4. Water stop at ~ 4.5km
5. Online entry £15
6. Last date for entries – midday 8th May – NO entries on the day
7. Entry limit 1300 runners
8. Supervised baggage storage
9. Refreshments throughout the event
10. Medals and Chocolate Bars for all finishers
11. Prizes and trophies:
1st, 2nd, 3rd man
1st, 2nd, 3rd lady
1st or next man 40–49yrs, 50–59yrs, 60+yrs
1st or next lady 40–49yrs, 50–59yrs, 60+yrs
12. Download a sponsorship form or go to www.justgiving.com Prize for highest individual sponsorship and prize draw for those raising more than £25 sponsorship.
Children's fun runs: Organised by Life-in-Motion and Lymington Athletes
Children's event enquiries to Valeria Sesto: virtualandlive@gmail.com
Every child entering the run must be accompanied to the event by a parent or guardian, and be able to complete their run without assistance – Parents will not be allowed on the course except for under 5's
1. Events for children aged up to 15 years. Entry fee £5 – under 5 years are free
2. 12-15 years (2Km) including inter-schools trophy– Start ~10:10 am
3. 9-11 years (1Km) – Start ~11:20 am
4. 5-8 years (1Km) – Start ~11:30 am
5. The entry limit is 250 for each age category
6. Online entry only
7. Last date for receiving entries midday 8th May – NO entries on the day
8. A fully marshalled route within Woodside Park
9. The entry fee includes a tee shirt that should be worn for the race
10. All finishers will receive medals and a treat
11. Trophies for the 1st Boy and 1st Girl in each of the age groups 5-15 years
12. Small prizes for first three Boys and Girls in each of the age group 5-15 years
13. School Team Trophy for 12-15 years old for the best-scored school (first 4 runners of any gender to count for the team)
Children under 5 years old:
1. The course will be a shorter version of the main children's route, starting and finishing in the same place as the other children
2. Start time ~11:40 am
3. All children will be provided with an event t-shirt that they should wear during the run
4. Finishers will receive a medal and a treat. No trophies or prizes will be awarded in this age group as it is a 'participation event'
5. A parent, friend or family member will be welcome to run alongside their children
6. Pushchairs/buggies are permitted. NO BIKES/SCOOTERS will be allowed
7. Entry fee: Voluntary donations if desired can be made in the entry process